TREAL Team Drivers
Byron Clinton- Team Driver
Rohnert Park, CA
My start into this awesome hobby began with a trip to our local off road track 6 years ago. While I was there checking things out I ended up driving all of my buddies race vehicles and was immediately hooked. I then went to my local hobby shop the next week to buy my first race vehicle the SCT. About a year after that I bought my first crawler the SCX 10i and started attending crawling events such as the ASD Crawl in 2016 and finally the Crawl for a Cure event in 2019 that raises money for Autism and Cancer awareness. I finally attended my first Axialfest in 2018 which was off the hook and after this event I knew right then and there that crawling was my passion because I was absolutely hooked on the crawling aspect of this hobby. What I love about this hobby is getting out and going crawling with a group of guys to have a good time and relax. I have not only truly enjoyed this hobby for the crawling aspect, but also for the fact that over the last 5 years of crawling I have met some new and great people to form new relationships with.


Mike Cummings- Team Driver
Manassas Park, VA
MJ has been in the hobby for only three years. He has surrounded himself with the most knowledgeable people on the East Coast with the intent of learning and sharing the newfound tips with others in the community.
He started with a Barrage Doomsday Edition then magically won a raffled off TRX-4 Sport and picked it up the day they were delivered to local hobby shops. Down the RC rabbit hole he went! MJ enjoys a good SORCCA event, has a blast at all Recon G6 activity, and most importantly never misses an opportunity to give his RC a FULL SEND!



Chris Duckworth AKA Ducky- Team Driver
Hemet, CA
I love to find new spots to crawl, meet new people and share good times.
In my free time I enjoy Mountain biking above all, Hiking, Camping and being outdoors.



King Fung- Team Driver
Plainview, NY
My RC journey began when I bought my 6-year-old a Redcat Gen8 in 2019 – both my son and I had so much fun with it. Later, I bought myself an Element Enduro so that we can go on trails and enjoy the "fun" value together. This hobby brings not only the fun, but also memorable family moments. I also like to explore the PROs and CONs in different trucks so it doesn't take long for me to grow my RC collections – Redcat Gen 8, Element Enduro, Axial SCX 10.2 & Capra, Traxxas TRX-4, BoomRacing BRX 01 & 02, FMS Jimny, Vanquish VS4-10 etc.

P.S. I'm having my 3-year-old to start his RC journey as well!
Mike George- Team Driver
Quakertown, PA
East Coast Boy born and raised Army Veteran 46 years old married with 2 kids 13 yr girl & 12 yr old son who is on the ASD Spectrum. I'm what they an ASD warrior as a hardcore advocate, for Autism. I promote awareness through my passion and enthusiasm for the RC Hobby, with tribute or theme style rigs to help spread the word. My motto is "Go fast to crawl I do it all" this sums it up but lately I've been laser focused on more scale builds including my scale garage. I've recently discovered a new level of excitement for RC with the addition of my own PLA /ABS and SLA resin 3d printers. I'm learning how to do some CAD but I enjoy using the STL files already available for example the Knights Customs stuff from My Mini Factory is my go to favorites. The builds are my passion and the RC community is my savior. I started out using social media to share my builds and it ended up doing so much more. Social Media can have its ups and downs with all the politics and negativity. One mega positive is the conduit that it makes between other like minded people. Being able to share tips and tricks, and witness all the talent and skills coming from within the RC community is a huge reason I use and support these platforms. As a brand ambassador or influencer, it gives me great pride when I use these outlets as a weapon for change and promoting positivity. When I post about a product, it's done with the intention of showing others what works for me, and maybe it will work for someone else. I build rigs for fun to have fun, my builds reflect me and my personality. The parts I choose are performance based but I'm not building for competitions. I enjoy attending events more focused on the trails instead of the timed gates, Recon G6 style events is where I'm happy. With my desire for the trails I recently stepped outside my comfort zone, and started a new company called CarryAllRC. We retrofit a backpack capable of carrying an extra rig. This is the first RTR backpack built for the RC enthusiast by an RC enthusiast.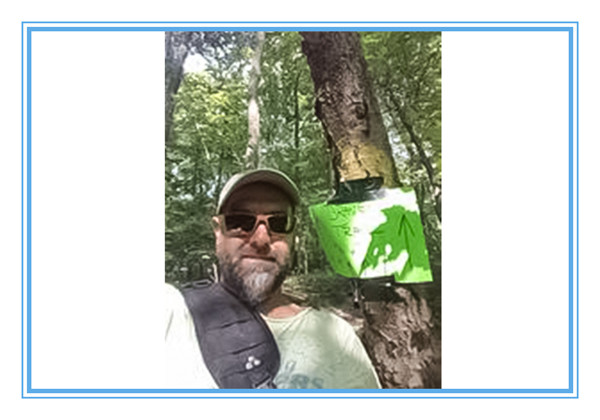 Adam Hoelper- Team Driver
Stroudsburg, PA
Avid fisherman U.S. Coast Guard Veteran, husband and father of two I got back into RC in 2014 when my son Aidan fell in love with scale crawlers. Since then I have been building rigs trying to stay as true as possible to the "built not bought" mantra. Most recently by learning to design and 3d printing parts and accessories for my builds

Currently living in the Pocono Mountains of PA I am an active member of Eastern PA Radio Controlled Crawlers(EPARCC)
The Fix Enduro 2019, team class Cham pion
Recon G6 2019, Bluerocks U.T.C Cham pion

Looking forward to meeting all the tiny truck family out there.
Aidan Hoelper- Team Driver
Stroudsburg, PA
I'm 11 years old and live with my family in the Pocono Mountains. I love everything crawling and try to spend as much time on the trail with my father as I can. My favorite rig is my customs scx10 with a chopp ed d90 body called big red. Look for me on the trail if you are broken down, my dad carries plenty of extra parts because I drive hard.

The Fix Enduro 2019 Team Cham pion
2019 Recon Bluerocks U.T.C. Cham pion
2019 Recon Dromadar 3rd
Motorama 2019 3rd in Rascals class
Motorama 2020 2nd in Rascals Class
2017 Recon G6 Driver of the Day
Winner Best Theme 2019 Recon concourse
The Fix Enduro 2020 3rd overall in the 3 hour class
Wayne Junior- Team Driver
Shorewood, IL
Wayne Junior aka Wayne's rc world been in the rc hobby for 5 years now. Love to crawl, bash, drift and most of all scale rigs out. My passion is making videos, reels, building rigs, and making scale stuff. Very honored to become a team drive.
Jeremy Kilburn- Team Driver
Havre de Grace, MD
In the RC hobby for over 34 years now. Started with a grasshopper and never looked back! I've been crawling with RCs since the late 90's with home builds and witnessed it all come around to today's market. I prefer long trail runs with or without a group and known to walk 10-12 miles on a single outing. Hanging out with friends and new people is also a favorite to chat and discuss rigs, parts and innovations.
Team driver for Castle Creations, Reefs RC, PowerHobby, CowRC, ERC and run the On the Rocks Maryland FB page. KilburnJeremy on Instagram.
Travis Klein- Team Driver
Keizer, OR
I started this hobby around 2006 with a Traxxas T-Maxx. That quickly escalated into other fast cars as well as an assortment of Axial branded crawlers. After a 10 year hiatus, I started NWScaler on Instagram last year as I built a few trail trucks for my now 5 year old son and I. As a family, we enjoy camping and outdoor adventures. This really makes this more than just a hobby for me, but more of a lifestyle. I am currently part of multiple great teams, and look forward to helping others as many have helped.
Broc LaRouche- Team Driver
Wildomar, CA
Been into RC for 30 years. Have done everything from 1/8 scale nitro to Crawling. Recently the scale crawling world has been my addic tion. If you see me at the event stop by and say hi.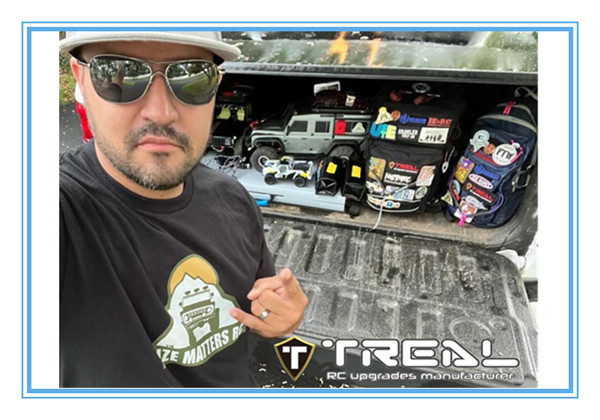 Craig Pormilli - Team Driver
East Windsor, NJ
My name is Craig Pormilli, and I'm addicted to RC, as many of you are! I have been in the hobby for as long as I can remember. But, never fully committed and always had nitro trucks growing up. In June of 2020, my best friend gifted me a TRX-4 and the addiction to crawling ensued. In January of 2021, I started Size Matters RC on instagram and Facebook, taking the deep dive into this hobby! Quickly I learned the companies that were reputable and who I wanted to support, Treal being on the top of that list. I have a great support structure of friends and family including my wife and children, who keep this hobby fun! We travel to USTE, BTC and many other events throughout the year. Many of my rigs run Treal parts and wheels and I could not be happier with the quality and the customer service, not to mention the amazing people on the fan page. I love seeing support of Treal and seeing questions answered on the page for customers and Treal fans. It is an honor to be chosen as a driver and I look forward to being part of this wonderful team! .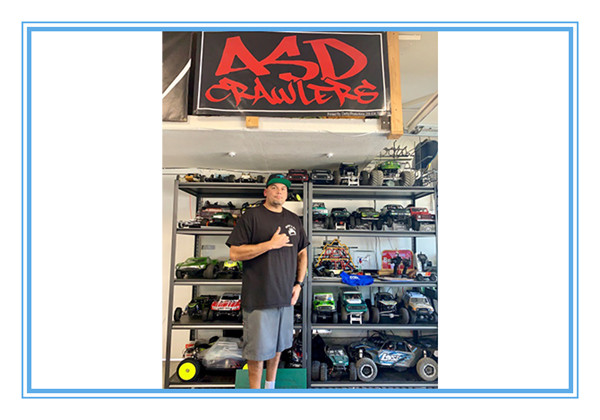 Jeff Ramos- Team Driver
Rohnert Park, CA
I have been in the hobby off and on since I was 11. The last nine years I have made it a large part of my life. I've had the opportunity to meet some amazing people. RC cars, crawling and flying drones gives me an opportunity to focus and enjoy being outside. I am an extremely proud parent to three amazing boys. Being a parent to a child on the spectrum teaches you so many things but the best of all is un conditional love, support and of course different is not less.
Team driver Reefs RC, JJ's Customs, Gens Ace, Carey-All RC, Treal Hobby. Cohost of The RC Hangout…
Glen Shelly- Team Driver
Quakertown, PA
My name is Glen Shelly a.k.a Dreamer. I've been in the rc hobby for about 20 years and I work at a small mom and pop hobby shop in a farmer's market in Quakertown known as Race Place Hobbies. I love to buy,sell and trade rc cars and parts with friends and other people that I meet up with. My first rc buggy was a Tamiya fighter buggy rx and a traxxas street sport. When it all comes down to it, my favorite part of the hobby is helping friends out with what they need and the most relaxing part is the trail time spent with friends and family.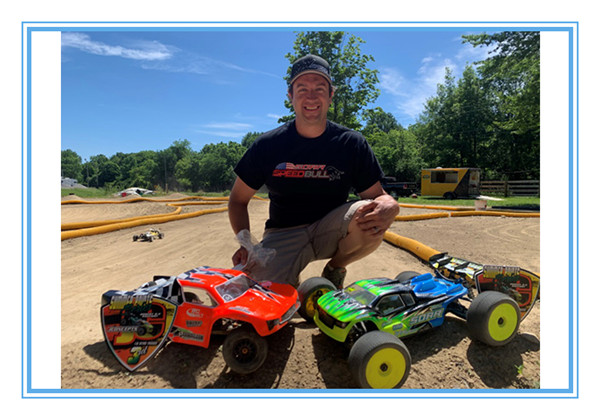 Tyler Slane- Team Driver
Delaware, OH
I have been in the RC hobby since 2018, starting in 1/10 scale off-road racing. As I continued into the hobby I later added 1/8 scale off-road racing to my program. I have competed in many regional off-road racing events featuring some of the best drivers in the country. My latest venture into the wonderful RC hobby has been trail riding and rock crawling where I look forward to competing in some future events.

When I am not relaxing on the trails, I operate a commercial construction company in central Ohio. In my spare time I enjoy family activities with my wife and two daughters. I also enjoy continuing my 7 yearlong training in Tae Kwon Do where I have competed in regional and national level competitions as a First Degree Black Belt.
Bill Stander- Team Driver
Union, KY
I have been into RC for about 4 years now. I do custom paint, build and 3D printing from my shop here in Union KY and am very active in a LOT of different types of RC. Drags, crawlers, drifts, street and bashers. my favorite RC is the one that I am holding the controller for. I am a true "wrenchhead" and love to tinker in my shop while watching sports or listening to Jimmy Buffett.